Our center
Technology
We pursue professional technology for all infertility couples.
Equipped with the latest and highly practical equipment, including the next generation sequencing (NGS), biochip microarray laser scanner, and PCR system, our laboratory offers secure and precise testing services of reproductive medicine based on technical expertise and high-specification equipment. The major detections cover Preimplantation Genetic Testing for Monogenic disorders and Preimplantation Genetic Testing for Aneuploidies, boosting the probability of implantation and conception.
Lee's Women Hospital Technologies
Lee Women's Hospital has successfully developed the "
Artificial Intelligence Embryo Image Dynamic Analysis System
" by combining dynamic image data of early embryonic development with AI deep learning modules. This system utilizes intelligence computing to assist in predicting the visual quality of embryos and their chromosomal normality score through an embryo grading system. In short, the AI embryo selection technique identifies embryos with better quality based on their dynamic growth changes. It also serves as an auxiliary assessment tool for evaluating the Preimplantation Genetic Testing, ultimately improving the success rate of pregnancies for females undergoing IVF.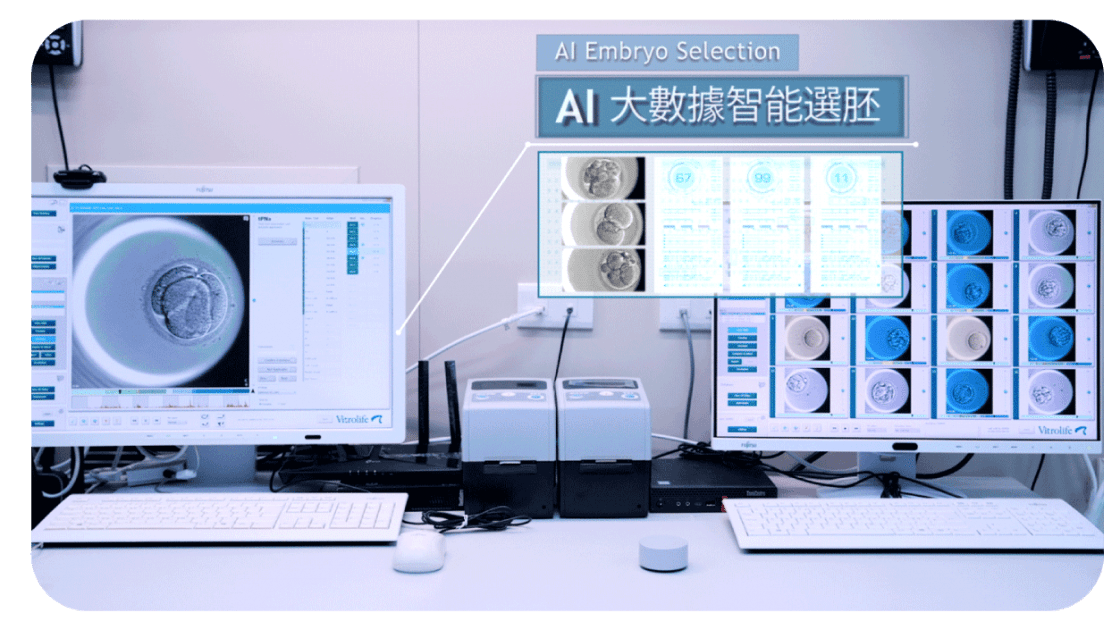 ▲AI Embryo Selection
The accuracy of the AI embryo selection technique is closely related to the integration of a comprehensive database. In addition to using the built-in database provided by the Time-lapse manufacturer, Lee Women's Hospital incorporates a clinical database into our AI embryo selection system. With over 4,000 cycles of IVF treatments performed annually and a cumulative over 30,000 success IVF, LWH possesses a vast database of IVF cases. Combined with 40 years of experience in reproductive medicine, this allows for a closer alignment with the actual circumstances of infertile couples.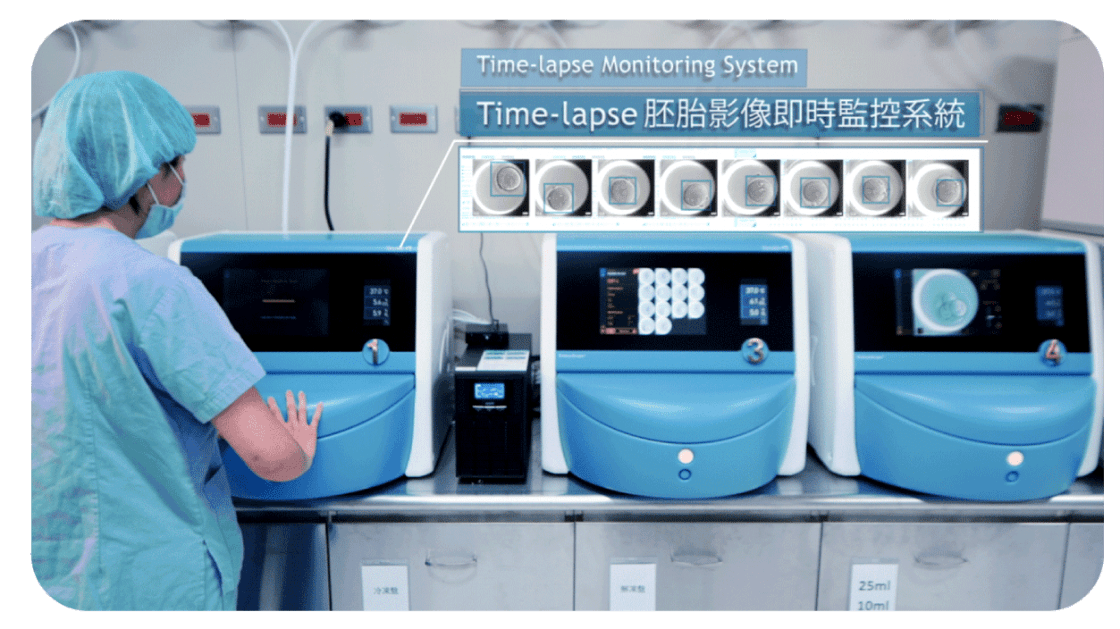 ▲Time-lapse Monitoring System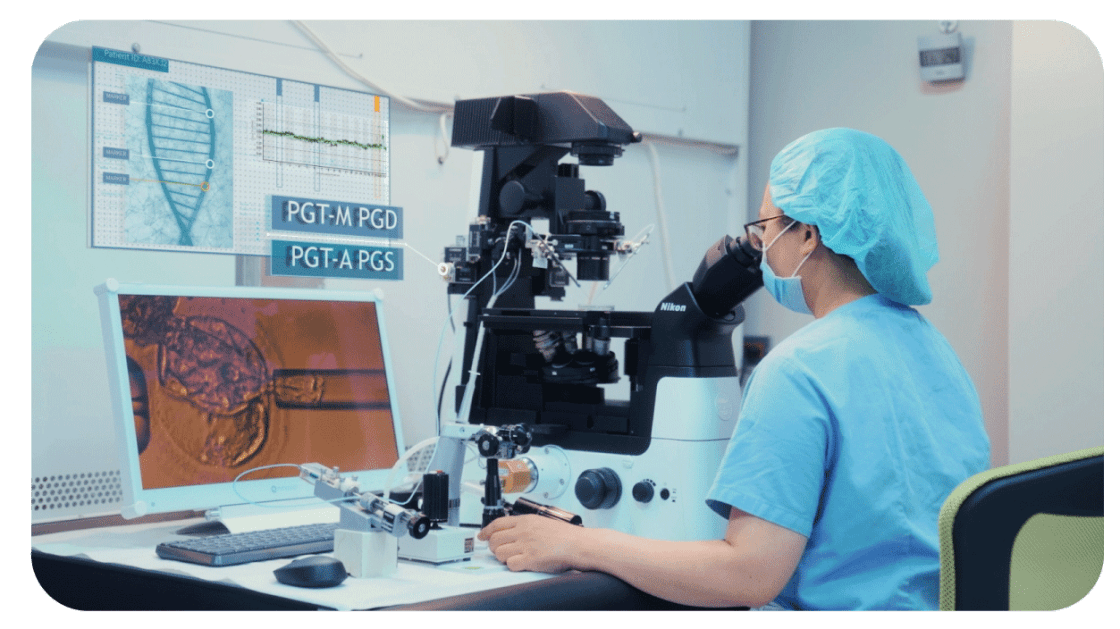 ▲Lee Women's Hospital performs PGT using Next Generation Sequencing
Research has found that abnormalities in
the number or structure of embryonic chromosomes
may result in recurrent miscarriages, advanced maternal age, or unexplained infertility. Through PGT-A, embryos with a normal number chromosomes can be selected for implantation, reducing the risk of spontaneous or induced abortions caused by chromosomal abnormalities and thereby increasing the success rate of IVF. In LWH, PGT-A utilizes array based comparative genomic hybridization (array CGH) as well as advanced Next Generation Sequencing (NGS), providing rapid, high accuration, and high resolution chromosomal genetic analysis.
Patients with
hereditary genetic diseases
can undergo PGT-M, which involves examining a single cell from an 8-cell embryo before implantation to exclude embryos carrying genes associated with genetic disorders. LWH provides customized services, designing appropriate testing strategies and methods tailored to individuals.
The spindle apparatus plays a crucial role in cell division, as it guides the movement of chromosomes. Any damage to the spindle apparatus can affect embryonic development or result in chromosomal abnormalities. Polarized light microscopy is utilized to identify the position of the spindle apparatus, to prevent damage to the chromosomes on the spindle apparatus during intracytoplasmic sperm injection (ICSI) and ensures successful fertilization.
▲Spindle View technology improves fertilization rates, embryo quality, and pregnancy rates.
▲Spindle View prevents damage to the chromosomes on the spindle apparatus during ICSI.
Vitrification is a freezing method that involves rapidly dehydrating embryo cells using a high concentration cryoprotectant. By rapidly cooling the embryos at a rate of approximately -23,000°C per minute, preventing the formation of ice crystals and achieving a vitrified state. This delicate process requires senior embryologists to minimize the loss rate through skilled techniques.
More Introduction to Specialized Reproductive Techniques ▶
Reproductive Techniques