Latest News
2017.06.05
Medical skills are excellent and the price is reasonable. Chinese women love to come to Taiwan to freeze eggs. The number doubles in 5 years.
Chinatime.com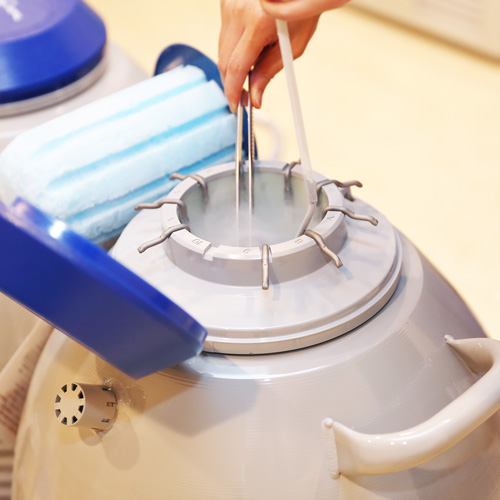 With the economic growth in mainland China, many women have become elites in enterprises. However, restricted by the mainland regulations, many of them choose to go abroad to freeze eggs and leave a chance for themselves. Taiwan's medical community pointed out that due to Taiwan's advanced medical technology, cheap prices and common language.It has become the first choice for egg freezing, in the past five years, and the increase of the number of people who have come to Taiwan is more than double.
According to China 's National Health and Family Planning Commission, single women are not allowed to implement assisted reproductive technology, even married women with the need of freezing eggs need to provide identification cards, marriage certificates, and birth permits, which is quite strict. In 2013, Chinese movie star Xu Jinglei publicly stated that she had flown to the United States to freeze eggs, and confessed that she had bought "the only regret drug in the world", such action had created the new hope for many Chinese women who has issues of late marriages and childbearing.
Yang Pengsheng, a physician at the Reproductive Medicine Center of the Taipei Medical University Hospital, said that in recent years, under influence of movie stars and celebrities, many DINKS or late-married people have considered freezing their eggs to buy a "fertility insurance" for themselves, and then give birth until they can afford it.
The authority in fertility and obstetrician and gynecologist in Taiwan, Lee Mao Shengstated that the trend of egg freezing is not only popular in Taiwan, but also popular in mainland China. He previously treated a single 35-year-old female patient in Shanghai who serves asa senior executive in the multinational company. Longed for having children in her heart, she came to Taiwan for egg freezing under the introduction of her friends to ensure that she could have children when she decided to marry someday.
Leeindicated that the cost of egg freezing in Taiwan is about NTD 120,000 to 150,000 each time with the annual storage fee is 6 grand. In comparison, in Europe and the United States, the cost of an egg freezing operation is at least NTD 500,000, and there is an expensive storage fee every year. Therefore, the cost of Taiwan is relatively cheap and the language is same as China, making Taiwan to be the first choice of a lot of women in mainland China to freeze their eggs. According to Lee's observations, the number of people has grown at least twice more in the past five years.
"If you don't store it now, there won't be any chance in the future," said Li Xin Yang, director of infertility at the Women's Medicine Department of Taipei Veterans General Hospital. When women grow older, even the beauty on the face can be preserved, the quality of the eggs will decrease no matter what, and this is also the key to influenethe succeed of pregnancy.
Li Xin Yang succeeded in two cases at the end of last year. The patients praised Taiwan's medical skills as well as the fair prices and they will definitely introduce other friends to come.
●
Chinatime.com ⋙
Original page